As the year comes to a close, it's helpful to look back on what you've read and take stock of the learning.  Here are my favorite books of 2019.  Note, not all of these books were published this year, some were published in 2018 and I only got around to reading this this year. 
In no particular order, here is the best of what I read: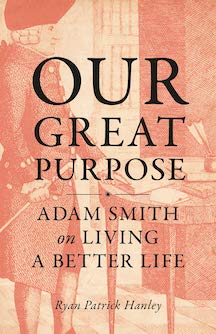 1. Our Great Purpose: Adam Smith on Living A Better Life by Ryan Patrick Hanley. This book has the most "wisdom per page" of any book I read this year. Hanley is a professor of Political Science at Boston College, yet this book is written for a general audience. The book provides an overview of Adam Smith's advice for how to live a good life. Each chapter starts with a quote from Smith, then Hanley explains the quote and relates it to our modern world. Topics include self-interest, caring for others, a healthy mind, tranquility, friendship, anger, pleasure, flourishing, virtue, character, dignity and community, just to name a few. The author also makes a good case for why Smith is still relevant today. In a world where selfishness, isolation and anxiety seem to be on the rise, Smith offers excellent advice on how to overcome these challenges and live a flourishing life.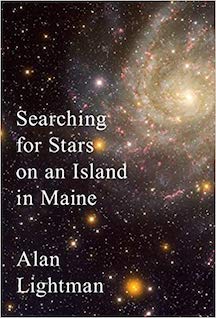 2. Searching for Stars on an Island in Maine, by Alan Lightman.  The author is a physicist who understands that we live in a material world defined by impermanence, constant change and flux.  And yet, as a human being, he longs for what he calls the Absolutes.   The Absolutes refer to things like the ever-lasting soul, the sacred and the divine.   Every human culture has evolved religions, myths and origin stories that reveal and explain the Absolutes to each new generation.  These stories are woven into the fabric of our culture and being, and yet, the scientific world tells us there is no evidence they exist.  Lightman, like many of us, struggles with these big questions, and although he doesn't give us the answer, he provides a wonderful roadmap for our own journey.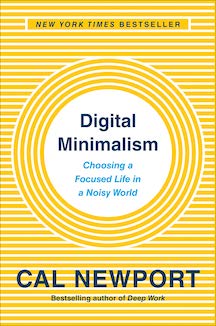 3. Digital Minimalism: Choosing a Focused Life in a Noisy World by Cal Newport.   As you go throughout your day do you feel constantly interrupted by trivial requests, tasks and diversions? We must guard ourselves against technologies designed to capture our attention and prevent us from doing the kinds of activities that truly allow us to flourish as humans.  Cal recommends we develop a "philosophy of technology use" that defines how and when we will use technology.  Perhaps the key to thriving in a digital world is to spend much less time with technology?  Cal makes a good case.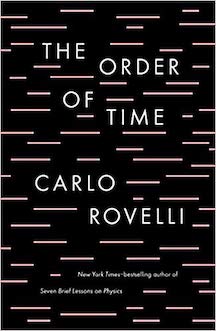 4. The Order of Time by Carlo Rovelli.  I enjoyed Rovelli's other book, "Reality is Not What it Seems," so much that I jumped right into this one, and I wasn't disappointed.  Rovelli confronts the mystery of time head on.  What is it?  How do we perceive it?  What can we learn from the science of time?  I came away with a whole new appreciation for time and its central role in our human experience. You'll discover why time passes faster in the mountains than sea-level. And Rovelli will have you questioning whether the "feeling" that time is flowing is actually an illusion.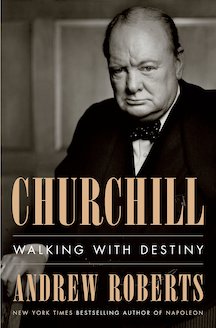 5. Churchill: Walking with Destiny by Andrew Roberts. This is a one-volume work that covers Churchill's entire life.  You get an overview of each phase, without getting bogged down in the details.  I especially appreciate Churchill's independent mind, confidence, writing skills, rhetorical skills and above all, his leadership.  After reading this book, it is hard to over-state Churchill's impact on the Allied victory in World War II. He is, perhaps, the most influential person of the twentieth century, and we have much to learn from his life. Here is the summary of what I learned from reading this book: Leadership Lessons of Winston Churchill.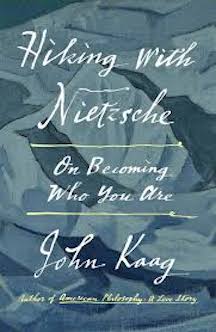 6. Hiking with Nietzsche: On Becoming Who You Are by John Kaag.  When the author was 19 he travelled to the village of Sils-Maria in Switzerland to hike the surrounding mountains.  This is the same quaint village where Nietzsche, late in his life, spent his summers and wrote his most famous works.  As a young man enthralled with philosophy and Nietzsche, the experience of following in Nietzsche's footsteps eventually led him down a dark path filled with anxiety and nihilism.  At one point he stands on the edge of a crevasse, staring into the abyss, contemplating suicide.  Kagge manages to save himself, return to the states and slowly build a life as a husband, father and philosophy professor.  But then, as he approaches 40, he decides to return to Sils-Maria with his young family, to read Nietzsche anew, revisit his youth and ultimately try to make sense of this dark chapter in his life. What he discovers, though a close reading of Nietzsche, and through his relationship with his wife and daughter, is the secret to "becoming who we are."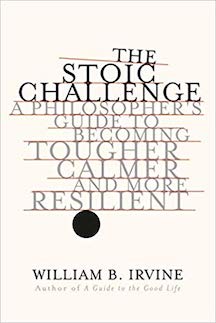 7. The Stoic Challenge: A Philosopher's Guide to Becoming Tougher, Calmer and More Resilient by William B. Irvine.  In the 2000s, Irvine wrote a book about Stoic philosophy titled, A Guide to the Good Life.  It didn't make much of a splash initially, but over time the sales of the book grew steadily and it has become a classic.  This is the sequel to that book, placing more of an emphasis on how to apply Stoic philosophy in the modern world.  Irvine addresses issues like how to manage anger, how to address setbacks, and how to cultivate resilience.  The author sprinkles in colorful anecdotes from his life, documenting his own struggle to put his Stoic philosophy into action.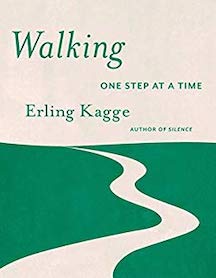 8. Walking: One Step at a Time by Erling Kagge.  Kagge is the first person to achieve the Three Pole Challenge: he walked to the North Pole, the South Pole and to the top of Everest.  The author is an adventurer, but he's not always traveling the world on some expedition.  He is also a husband, father of three girls, writer and publisher.  In other words, much of his life is just like the rest of us, he gets up in the morning, goes to work, comes home, has dinner with his family, does the dishes, etc.  So where is the adventure in life when you're not climbing Mt. Everest?  The answer is so obvious and "pedestrian" that many of us don't see it:  walking.  In beautiful language Kagge describes the power of walking and how we can create adventure in our own lives, no matter where we live, simply by putting one foot in front of the other.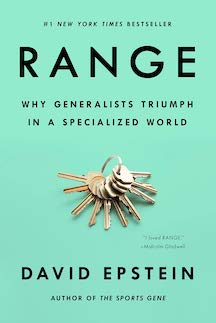 9. Range: Why Generalists Triumph in a Specialized World by David Epstein. Conventional wisdom says that, to succeed we must specialize.  If we want to become the best in the world at what we do, we have to focus, at a young age, and put in 10,000 hours of deliberate practice.  After all, look at the examples of Tiger Woods and Mozart.  This argument sounds good, until Epstein takes it down and rips it to shreds.  Golf and music are unique fields that are highly dependent on individual skill and dedicated practice.  Most of life is more complicated, interdependent and probabilistic.  Epstein makes a great case for this unconventional theory: to succeed in life it helps to have a broad range of experience.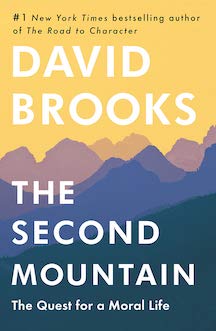 10. The Second Mountain: The Quest for a Moral Life by David Brooks. We are all called to climb two mountains during the course of our lives. The first mountain we encounter consists of accomplishing those things that society and culture dictate: get an education, find a career, get married, start a family, strive for more, etc. The first mountain is about separating from our parents, establishing an identity, cultivating our talents and achieving our goals. But then life shifts and you realize something is missing. Maybe you get to the top of the first mountain and find yourself unfulfilled and ask, "now what?" Or maybe you suffer a setback, the loss of a loved one, a divorce or poor health. That's when many of us recognize the second mountain, which is a search for a deeper, more joyful life that is, at its heart, about serving others.
About the Author
Sean P. Murray is an author, speaker and consultant in the areas of leadership development and talent management. Learn more at RealTime Performance.
Follow Me on Twitter: @seanpmurray111
Join my mailing list and be updated when I publish new articles.